Tarrago makes a strong commitment to the sneakers category providing a comprehensive range of products that includes cleaners, repairers, protectors, dyes, and accessories to meet the needs of the demanding sneakerhead community. This community, unstoppable in the recent years, is formed by people who not only wear sneakers regularly, but also collect them as objects of worship.
Sneakers are a trend that complements any look: sporty, casual, or sophisticated. You can wear them with new combinations, and original uses. This type of footwear has turn into the must of the season! Therefore, sneakers are in any wardrobe and it is necessary to have a comprehensive range of specific products to keep them always impeccable. Tarrago, attentive to the needs of all customers, has promoted this new family of products that includes from an innovative nano-protector (a waterproof of last generation) to a revolutionary restorer that eliminates the unpleasant yellowing of the soles. Here you can find the information about all the new family of products.
Tarrago has also thought of all those who want to convert their sneakers into a unique shoe by painting them to give them a personal touch. For this reason, Tarrago has the widest range of dyes with the most attractive colors that can be imagined: from strawberry red, to green jade, passing through fuchsia fluorine or intense violet. And so up to 31 colors that will satisfy the needs of any fan of this type of footwear.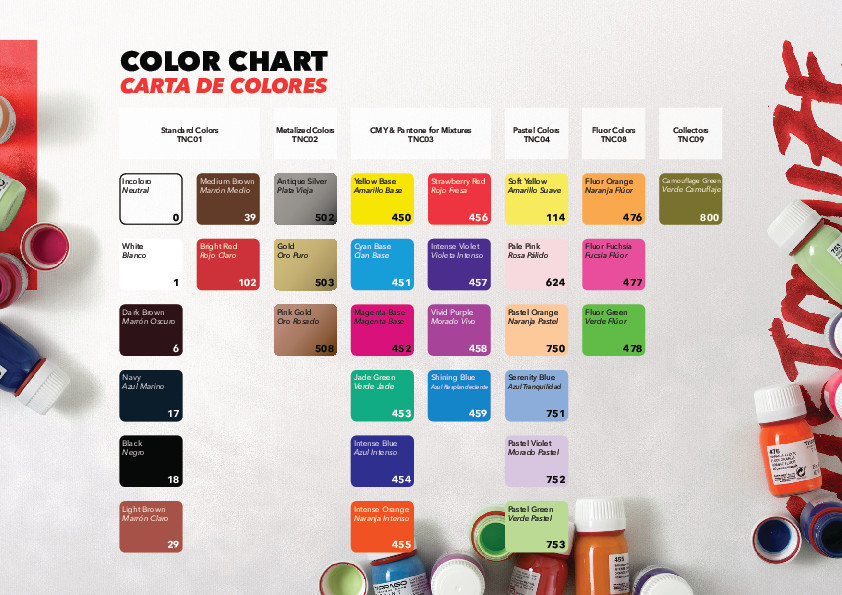 Following, we explain you the details of all our sneakers products:
Products to customize your sneakers
Tarrago Sneakers Gloss Maker: Solution particularly suitable for the glossy finish on dyed leathers. Sets the color, softens the leather and protects improving rub resistance.
Tarrago Sneakers Matt Maker: Solution particularly suitable for the matt finish on dyed sneakers. Helps to set the color. Revives the colors, softens and helps to prevent scratches.
Tarrago Neutral Base: Water-based neutral color specially formulated to dilute and decrease intensity of any Color Paint, that way it is possible to get unique tones. For leather, synthetic leather and canvas. Not suitable for suede and nubuck. It can be applied with brush, sponge and airbrush.
Products to repair your sneakers
Tarrago Sneakers Sole Restorer: Eliminates yellowing soles. Oxygenated solution that restores the color of rubber soles.
Tarrago Sneakers Rescue: Cream enriched with avocado oil. Cleans, protects, prepares, shines and conditions. For smooth leather, vinyl and patent leather. Finish smooth, shiny; prevents water spots and leather chaps. Not suitable for suede, nubuck or nappa.
Tarrago Sneakers Expander: Special solution increase fleixibility of the leather fibers of the shoe so it adapts to the shape of the foot, removing the pressure points and helping to prevent pain
Products to protect your sneakers.
Tarrago Sneakers Protector: Colorless preparation which helps to prevent water soaks into the footwearor clothing. Water and dirt repelency. Respects the original colours andthe natural characteristics of the leather. Does not affect breathability. Suitable for leather, synthetic leather, oiled leather, suede, nubuck, fabric and micro fibers.
Tarrago Sneakers Cleaner: Foaming detergent with high cleaning power, conditions and deodorizes leaving a pleasant and delicate fragrance. Cleans effectively without damaging the original texture and unaltered colors. Suitable for all colors.
Tarrago Sneakers Wipes: Quickly and effectively removes dirt and scuff marks from genuine and synthetic leather, canvas, nylon and vinyl. For use on footwear and accessories.
Other products for your sneakers
Tarrago Sneakers Odor Killer: Specially designed to deodorize footwear. Deodorizes with its fresh, pleasant and lasting aroma.
Tarrago Sneakers Brush: Varnished beech wood handle with soft bristles to clean the sneakers to perfection. Removes the toughest stains. Use with Tarrago Sneakers Cleaner.
Tarrago Shoe Duster: For achieving a perfect shine, made from 100% natural cotton.
Tarrago Sneakers Kit: Specially designed to take care of sneakers. The kit contains Tarrago Sneakers Cleaner 125 ml., Sneakers Protector 125ml., Sneakers Brush and Shoe Duster.