At Tarrago we are promoting the replacement of animal-based ingredients with other natural and vegetable-based components, which are also respectful with nature. In order to be a sustainable company and generate the least possible impact on the environment, we promote the care of our planet as we do with our most precious garments. With these values in mind, we have launched the first vegan grease for the care of leather shoes and accessories, both greased and smooth, as well as vegan. This product is very similar to the famous and traditional Mink oil, but eliminating its mink oil content and improving its special properties for vegan leather.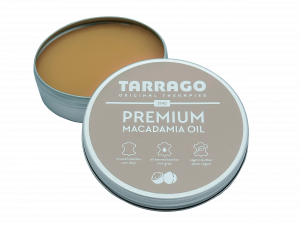 Premium Macadamia Oil is a high quality natural grease based on waxes and oils. Its unique and particularly gentle formula is designed for the care of vegan leather, smooth leather and oiled leather. Its high content of waxes, such as rice wax and carnauba wax, provides a natural, long-lasting shine and guarantees the waterproofing of the leather. Shea butter and especially macadamia oil provide delicate nourishment and soften the leather, including vegan leathers.
Key features:
Innovative environmentally friendly formulation.
Paraben and Silicone free.
Contains macadamia oil, rice and carnauba wax, shea butter and almond scent.
Nourishes, protects and provides shine.
Extends the life of footwear and garments.
Take care of your garments while you take care of the planet.
Packaged in an 50 ml aluminium can, that it is easy to recycle after use and can be transported by air.
For smooth, greased and vegan leather.
Not tested on animals.
It does not contain animal-derived ingredients.
Fresh and pleasant scent.
Ingredients:
Rice wax protects, softens and adds shine to the surface, leaving a smooth feel to touch.
Shea butter is a natural conditioner that nourishes, regenerates and protects the leather from sunlight, preserving its flexibility and elasticity.
Carnauba wax, popularly known as the queen of waxes, has the main function of adding consistency to the application and provide shine, in order to make your garments look as good as new once applied, improving their natural appearance.
Macadamia oil is a nutrient that stands out for its high penetration power in leather, providing an extra moisturising effect on damaged or dry leathers. Its protein supply provides firmness and elasticity, offering a feeling of comfort, especially when using shoes.
The almond scent, thanks to its sweet essence, leaves a soft and pleasant fragance during application.
Directions:
Brush to remove dust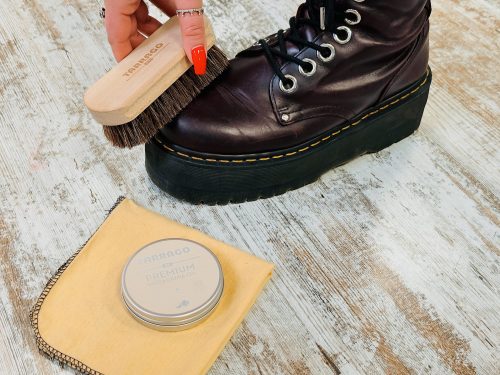 2. Apply a small amount of product with a clean cloth
3. Let it dry for 15 minutes and rub with a dry cloth or a polishing brush to obtain the desired shine.