Do you want to learn how to personalize clothes? Follow these 5 basic steps to paint a denim jacket or any denim garment and enjoy painting!
Surely at the bottom of your wardrobe you have countless pieces of clothing that you no longer wear for whatever reason, either because you think they have gone out of style or because, simply, they no longer have that charm that they had the day you bought them.
In this blog we want to teach you how to give a second life to your denim clothes, that denim jacket you haven't worn for years or those jeans that, if they had some drawing details, would be much cooler!
Here we provide you a complete guide to let your imagination run wild and recover that wardrobe background that you no longer use and learn to customize and paint your own clothes.
Where do I begin?
If you are reading this blog, you have already taken the most complicated step, so congratulations!
Let's start choosing the denim jacket that you want to customize. It necessary don´t have to be a jacket, who says jacket, says jeans, jeans pocket, whatever you want.
Regardless of the type of customization you are going to carry out, before painting, is important to clean the surface of the garment, even if it is new.
NOTE: New clothing may be protected from the factory, so for quality customization, it is necessary to prepare the garment so that the paint adheres as much as possible.
To prepare the garment before starting to paint, we recommend use Tarrago Universal Cleaner, a product created to clean and remove the most difficult stains and dirt. It can be used on smooth leather, nubuck, suede, canvas, fabric and all types of surfaces.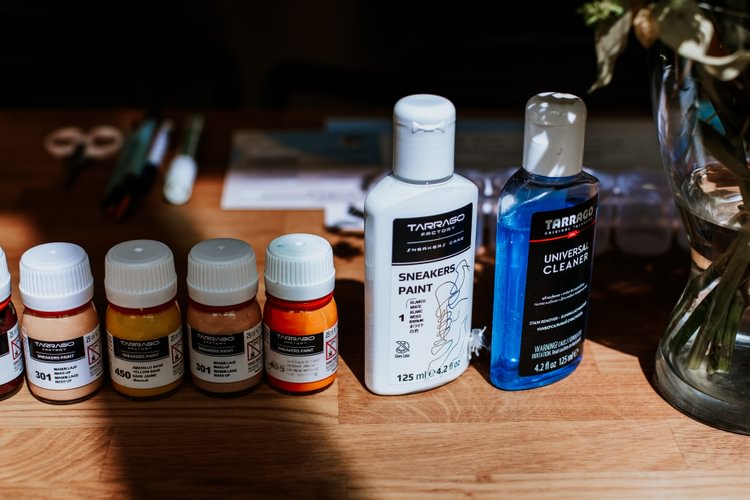 We are going to customize our denim jacket!
Although customizing clothing seems like a simple task, here is a reference guide with some steps and tips to make your customization a success.
STEP 1: SKETCH DESIGN
Before starting to customize clothes, it is advisable to make the design on paper.
You can use tracing paper to trace the design later on the garment, or, with a pencil, make the sketch on top of the garment itself.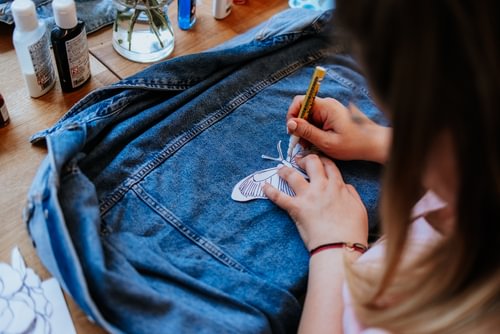 STEP 2: FIRST COAT OF PAINT, ALWAYS WHITE!
Regardless of the range of colors you decide to use, it is advisable to apply a layer of white paint so that the colored paint adheres better.
So, once you have the sketch done, apply a thin layer of white paint to start the customization.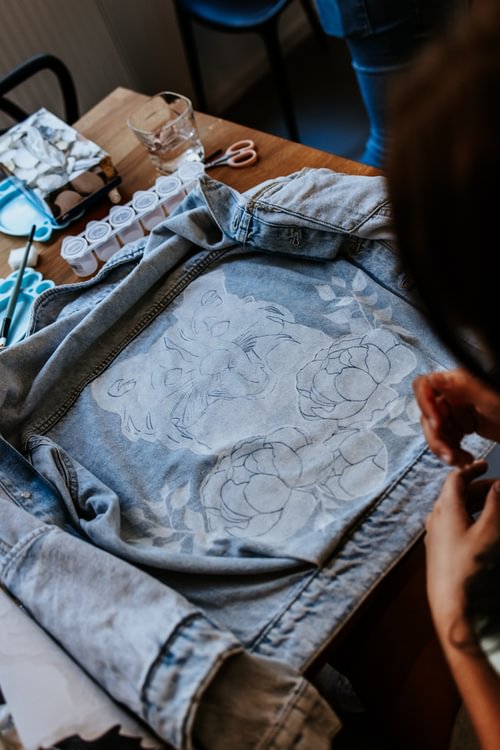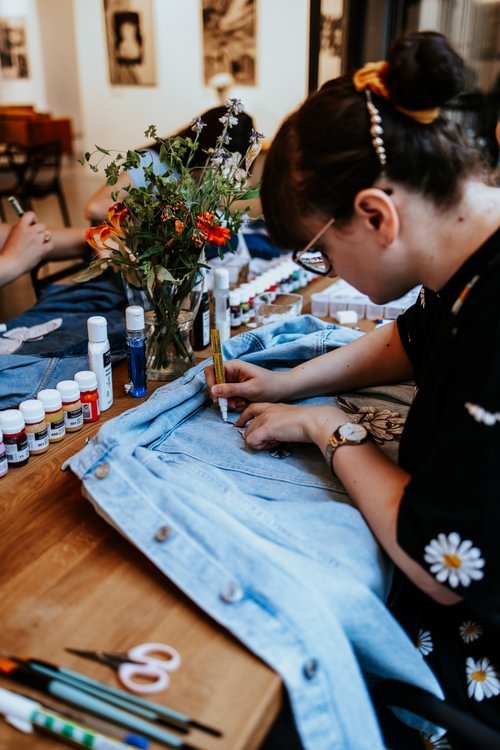 STEP 3: SNEAKERS SOFT MAKER, a fundamental part of your painting process!
Now that you are about to start customizing your denim jacket, we recommend that you mix your paints with Sneakers Soft Maker.
This product is usually used with Sneakers Paint to paint on fabric, mesh, canvas and denim. It keeps the surface smooth and flexible and at the same time helps to set the paint offering a better finish.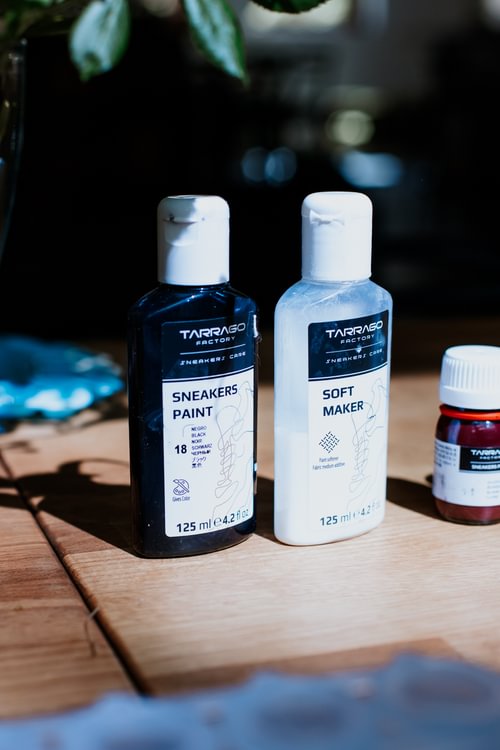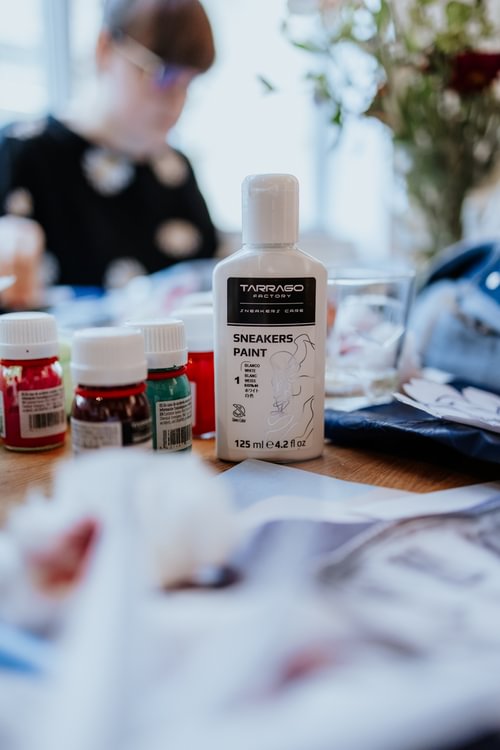 STEP 4: LET YOUR IMAGINATION FLOW
Now that we have everything ready, we can start creating!
As advice, make thin layers and don't be in a hurry to finish the customization. Remember to respect the drying times of the paint so that it adheres well to the material and does not crack later.
By the way, if you're wondering if you can use glitter or special effect paints like Glow in the Dark, metallic or glitter, the answer is yes!
Above all, always remember the white background that we have already talked about.
Here we leave you an original webapp in case you dare to mix colors:
STEP 5: PROTECT YOUR CREATION
We have previously talked about the importance of preparing the garment before painting, so once we have finished customizing our clothes, it is just as important to protect our work.
To give our denim jacket the finish it deserves, you can apply Tarrago Sneakers Matt Maker to give it a matte touch.
Once dry, apply Sneakers Nano Protector to give the design a fixation and a waterproof protection.
READY!
New and unique denim jacket!
Tips to keep in mind…
Here are some tips that may help you to carry out the customization:
If you don't want to wait between 12 and 24 hours between coats of paint, you can speed up the drying process by using a hair dryer. It is recommended to heat both sides of the surface where it is being painted between 8-12 minutes.

Once the design is dry and finished, if you see that the garment is wrinkled, you can iron it, but be careful! You should put a fabric over the design before ironing the garment.

Don't fold clothes, hang them. You have not spent hours and hours customizing your denim jacket to not store it correctly.

Do not wash your customized clothing in the washing machine, it could be damaged.
List of products you will need to customize denim:
Acrylic paints from Tarrago Sneaker Care range.
Paintbrushes.
Cleaner to prepare the surface before painting: Tarrago Universal Cleaner.
Additive to fix the paint during painting: Sneakers Soft Maker.
Matte finish: Sneakers Matt Maker.
Protector: Sneakers Nano Protector.
And a lot of desire to paint!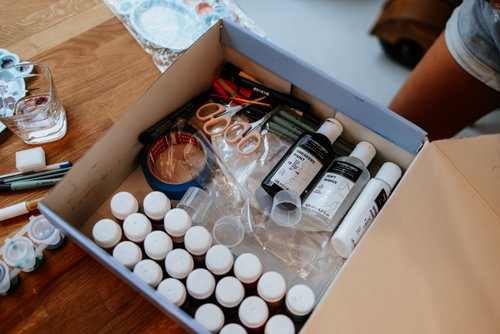 Copyright and image rights:
All the images that have been made to serve throughout the development of this blog have been made in the session: