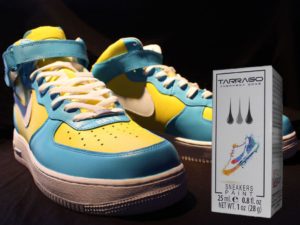 People want to show they have a unique taste level, that they can create. If you put it together, you feel more ownership of it. You're more proud of the item because you helped make it and the more involved you are in making something, the more brand loyalty you have.
Simply stated, being yourself is cool. People have been customizing their sneakers for about as long as they have been wearing them. Whether it be switching up the laces, writing messages on the sides, or painting a dirty pair white, this phenomenon has been a part of the culture since day one. But through the years, what began as simple modifications has given way to full-blown makeovers, leaving the new custom shoes often looking nothing like the originals. So you are welcome to the color explosion of Tarrago Sneakers Paint.
Customize Shoes with Tarrago Sneakers Paint
Customizing shoes is an activity that can be fun. Shoes can have any pattern the designer wishes. The first thing to do is to have a basic idea of what you are going to draw with Tarrago Sneakers Paint In this way, you can have what you really want, with a differentiation compared to the rest.
The first thing to do is to have a basic idea of ​​what you are going to draw. It's about decorating or painting shoes in good condition because they lost their charm to the owners. In this way, the piece is rescued and comes to life.
Flee the trends that make everyone dress the same and create a unique shoe and your liking. It's guaranteed to become one of your favorite sneakers experiments! Check out our products in Tarrago Brands International.