Pantone's new color of the year 2023 is a vibrant Magenta, Viva Magenta 18-1750. At Tarrago, as color experts for our dyes, we look forward to the moment when the Pantone color for the following year is known. The Pantone Color of the Year 2023 Viva Magenta is a classic in the world of fashion, beauty and make-up, which exudes optimism and vitality.
Bold and colorful, it has been part of Pantone's collection since 2019. In Tarrago we think it is the perfect color to start the new year we are about to enter, which after a series of difficult events for everyone, comes full of enthusiasm to return to normality and resume projects with passion and energy.
Leatrice Eiseman, Executive Director of the Pantone Institute, explains that in this new era of technology, they wanted to draw inspiration from nature and the real:
«In this age of technology, we look to draw inspiration from nature and what is real. PANTONE 18-1750 Viva Magenta descends from the red family, and is inspired by the red of cochineal, one of the most precious dyes belonging to the natural dye family as well as one of the strongest and brightest the world has known.» – Pantone Institute.
Below you can discover our color range based on the new Viva Magenta, available in different shoe care products and accessories:
The perfect product for the care and nourishment of your magenta bags, shoes and accessories.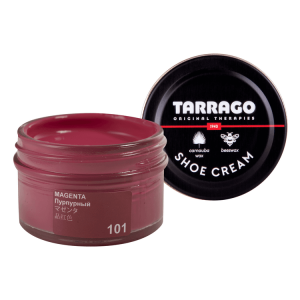 If you are thinking about changing the colour of your bag, belt or leather accessory, it is possible to paint it in the new colour of the season. For this purpose our special leather dye Tarrago Color Dye is ideal due to its high resistance to rubbing.
To paint your favourite sneakers or denim jacket, our high pigment, thick, matte finish paint for leather, synthetic leather and canvas allows you to renew your garments and get any colour you need from our colour chart or by mixing with the help of our app paint.tarrago.com