Before starting to talk about how to take care your Tieks, you have to know that the brand's shoes Tieks by Gavrieli are the re-invention of the classic ballet shoes. The users and the same brand define them as elegant, comfortable, foldable and durable and are known as the "most versatile flats in the world".
They are very used by brides, as second shoes during the celebration.
Having a Tieks is an investment, but to fulfill the concept of "durable" we can intervene. The Tieks are made mostly in Italian leather, and many of them in delicate leather. That is why it is very important that you take care of her.
How to take care the Tieks? – Cleaning Step
To clean the Tieks, never use the washing machine, you can not only deteriorate the leather but also de glue. That's why we recommend Tarrago Universal Cleaner for classics Tieks.
This soap for leather, will remove that intense dirt and also helps to remove stains embedded. It is a product that has alcohol, so it can probably remove a little color, so always test in a non-visible area.
If your Tieks have slight dirt, or you have exotic leather Tieks, we recommend the Tarrago Gel Cream that will not leave you residue, nor will it affect the original texture of the leather.
How to take care the Tieks? – Maintain Step
The leather of the Tieks – those that are not patent leather – need hydration, this way you will be sure of the prolonged durability of them. For this it is ideal Tarrago Balm neutral, because it is a product that contains mineral waxes and oils of vegetable origin, so it embellishes the leather. It is perfect if you later want to apply a cream with color, because it cleans the pore of the leather very well.
How to recover the color without dyeing?
Now, if your Tieks have suffered a scratch or have lost color because you have removed any stain, the ideal product is the Tarrago Shoe Cream, which offers a wide range of colors with high quality pigments, in addition to offering your shoe a lasting shine thanks to the beeswax it contains.
If you cannot match the color of your Tieks with our creams, first check this LIST or send us the color of Pantone and we will suggest the mix you should make.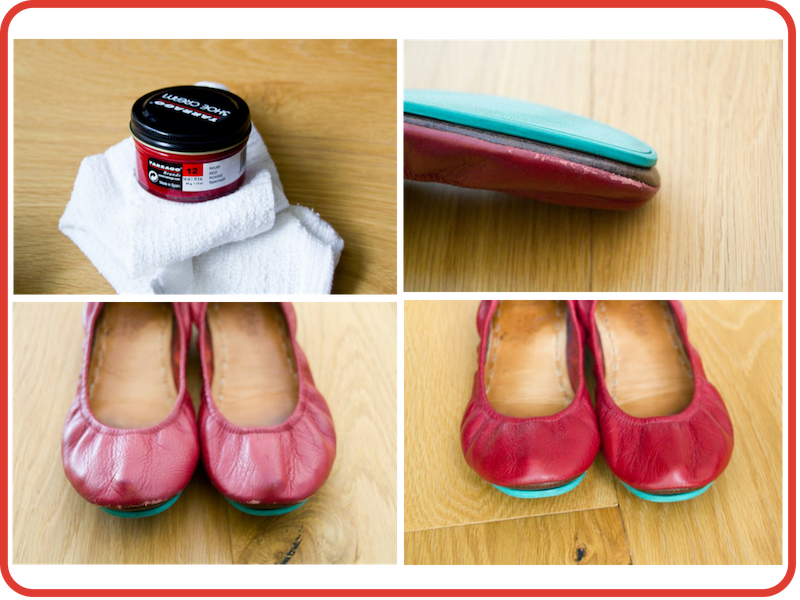 Pictures and tutorial by: Since Wen Blog. Author: Kristy