Tarrago Brands introduce you the artist and craftsman who with our products, turns shoes in a unique work of art, his name Emmanuel Farré .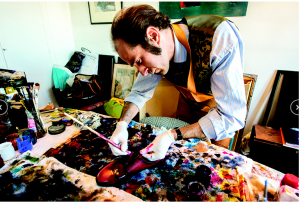 Emmanuel  is an original independent artist  who works for shoe stores , shoemakers  and part
iculars, in the last years his passion has been  fashion and creating unique shoes. He makes real magic with a pair of shoes and Tarrago Dyes .
Emmanuel , where inspiration comes to make these creations ?
My mother was a great follower of the eighteenth century furniture and my dad always took care of his image as much , wearing tailored suits three-pieces. Each day I looked with admiration how he dressed and looked after, every detail in his look. They instilled in me a mixture of art and love for the elegance.
The cinema has also inspired me , watching Marcello Mastroianni in La Dolce Vita, with a natural elegance or the ease of Cary Grant wearing a tuxedo.
Tell us about your life before being an artist ?
After finishing my literary and artistic studies , spending a year in the USA,  I was recruited by the Navy for eight years. After that, my brother and I created and headed a restaurant in Toulouse, in the antiquarians district .
At  present, are you only devoted to your art ?
I am currently registered as an independent craftsman. My creations for shoes and accessories are addressed for both, men and women.
In the last years I have developed my passion for fashion and I quickly realized that the range of men's shoes was very conformist. Researching, I have been able to develop my own
cleaning techniques and so leave the shoe completely clean to build myself a new and unique image for that model.
How is the atmosphere that inspires Emmanuel ?
I work in my studio surrounded by music and my cats. I am inspired by the colors I'm finding in my studio. Fortunately, Tarrago has a wide range that gives me everything I need for  my creations. Sometimes inspiration can come from a leaf, a gemstone or the patina of an old wood.
The models  that Emmanuel Farré usually work are normally brands like Louboutin, Berluti , Hermés , Santoni , Weston …  Quality pieces for exceptional creations.
Examples of his art:
 BAROCCO
Inspired by French drawings from the 18th century, I took the elements separately, and I engraved it using a point of a diamond.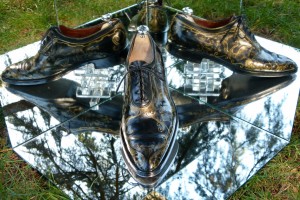 The most difficult was the fact that the diamond is very tiny, so I worked as the same process applied for scarification, at least I just put a coat of gold dye on all the surface of the shoe, and then rubbed it softly, so to leave the dye only in the engraved parts.arately, and I engraved it using a point of a diamond.
 PANTHERE
I had frequently the idea of making a project about the wild, and more exactly about animals. The fist time I worked in this pair of shoes, I started by cleaning thoroughly the toe, so that it became very yellowish.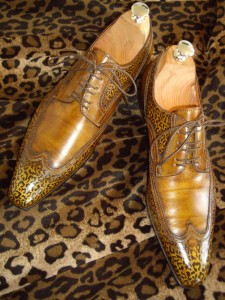 The front color stood brown, so that that the mix of colors could obviously remember a panther.
I made every spot by using brown dye, and it took me around 60 hours in several days work, to complete the pair of shoes.
IGOR MY CAT
Like my cat IGOR, I wanted grey foot, so I worked the exact shade off of his fur, mixing light and dark grey, with a little of yellow, and doing a hand burnished finishing with a silver shoe cream, to meet the silky look of his long hair.